An InDesign Document file with the INDD file extension is most typically created and used with Adobe InDesign. Page content, formatting information, files, and more are all stored in this file.
These files are used by InDesign to create newspapers, books, brochures, and other professional layouts.
What is INDD File?
Adobe InDesign is most commonly used to create and use InDesign Document files with the INDD file extension. This file stores page content, formatting information, files, and more.
InDesign uses these files to generate professional layouts for newspapers, books, brochures, and other publications.
Despite the fact that some InDesign Document files, such as .IND, have only three letters in their file extension, they are still in the same format.
How to use INDD File?
The InDesign Document file type was created specifically for designing layouts. Here are some examples of how INDD files are used:
Layout design for print and web
Create books, magazines, brochures, flyers, and other print and digital things with a strong design element using INDD files. Graphic designers may cooperate more easily with this easily shareable format.
E-publications
E-publications, internet newsletters, and presentations can all benefit from INDD files. Along with static boxes, it's simple to add video, animations, and other images.
Presentation
InDesign is also frequently used to create interesting presentation slides that include sound, video, animation, and text.
InCopy
INDD files are frequently used by InCopy users to write straight onto a prepared page. Writers may open and modify INDD files right within InCopy for easier collaboration between creative content teams.
When should you use an INDD file?
The INDD file format may function better in some instances than others, depending on your project. What you need to know is as follows:
INDD files have a number of Advantages
INDD files are ideal for projects with multiple pages. For consistency across pages, chapters, and publications, you can develop templates.
With InCopy, you can use INDDs to write and design appealing print and web content.
Without converting, compressing, or emailing, you may easily share, publish, and upload your completed pages. Package typefaces and layouts quickly to distribute with a group.
Other things to think about with INDD files
InDesign and other Adobe Creative Cloud tools, such as InCopy, are the only programs that can open INDD files.
Often, file sizes are too enormous to send over email.
Larger files can also cause your computer to slow down.
How to Open INDD File?
Adobe InDesign and other Creative Cloud-compatible programs are the only programs that can open and edit INDD files. Select File > Open in InDesign, then select your document.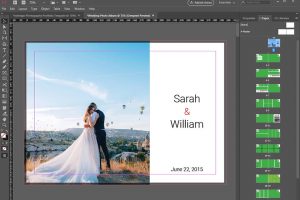 How to make an INDD file and edit it?
To make an INDD in Adobe InDesign, follow these simple steps:
Select File > New > Document from the File menu in InDesign.
Choose the best format for your project: digital publishing, print, or the web.
Enter the total number of pages in the project.
Page sizes, columns, and margins can all be customized.
Click the OK When you're done editing, go to File > Save As. By default, your project will be saved as an INDD file.