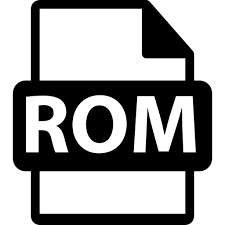 The .rom filename extension is mostly used to indicate Read-Only Memory (ROM) images saved as files. A .rom file can include PC BIOS firmware or the contents of the ROM of an electrical device. It contains an identical version of a binary computer code that is stored permanently in ROM (flash) memory.
Although the actual structure of a given .rom file depends on its origin and purpose, ROM files often have sizes that are multiples of 8 (256, 512, and so on). ROM files are often used for firmware distribution and updates, and they can have a variety of extensions (.bin, .ami), or no extension at all. To avoid 'bricking' a device, any ROM file used for firmware updating (flashing) is first examined for format correctness and data integrity.
What is ROM File?
The term ROM refers to a Read-Only Memory Image. Nintendo 64 – N64 game pictures are stored in .ROM files, which are supported by an N64 emulator. The cassettes' contents are kept in a read-only format, allowing the game to be launched using emulator software. N64 and V64 are the most common extensions for Nintendo 64 game drives.
The .rom extension is commonly used to refer to firmware dumps of earlier computers (Atari, Amiga, Commodore 64, Spectrum ZX Sinclair, and so on) or hardware devices for usage with software emulators. ROM files may also contain game cartridge images. There are entire archives of varied ROM images on the Internet, and depending on the format/purpose of the .rom files, there are a variety of programs to interact with them.
Dumping is the process of obtaining ROMs from cartridges, discs, or other devices. Dumping video game ROMs into a ROM file can be done using a variety of devices; however, dumping ROMs from other devices, such as arcade games, takes more specific equipment and knowledge.
If the ROM file is used for emulation, it is usually to allow older operating system (OS) software to operate on modern Windows, Mac, and Linux systems. It may also be used to play video games on a computer using a video game emulator for older systems like the Nintendo Entertainment System (NES) or Sega Genesis.
What is Typically ROM File used for?
The .rom file extension is used by computer hardware to update data saved on computers. Updates to PC BIOS and video cards are two common uses for ROM files.
Many gaming device emulators use ROM files to allow computer users to play their favorite video games on their computers instead of on the actual video game system console. These files contain an exact duplicate of the game from the original gaming cartridge, allowing users to play it without needing the game system or cartridge.
How to Open a ROM File?
Different programs may use files with the ROM file extension for different purposes, therefore you may need to try a few different programs unless you know which format your ROM file is. There could be various reasons why you can't access the ROM file on your computer. The main and most crucial (and most prevalent) issue is a lack of adequate ROM-supporting applications among those already installed on your device.
Finding and downloading the relevant application is a pretty straightforward way to tackle this problem. The first half of the operation has already been completed, the table contains the software that supports the ROM file. Simply download and install the necessary application.
Possible Issues with ROM File
The inability to access and use the ROM file does not necessarily indicate that you lack the necessary software on your computer. There could be other issues that prevent us from using the Read Only Memory Image (emulators/AONs) file. A list of potential issues follows.
ROM file corruption as it is being opened
Incorrect ROM file connections in registry entries.
The description of the ROM was accidentally deleted from the Windows registry.
An application that supports the ROM format was not installed completely.
An unwanted malware has contaminated the ROM file that is being opened.
The computer's hardware resources are insufficient to handle the ROM file's opening.
The computer's drivers for equipment used to open a ROM file are out of current.
If you're certain none of these factors apply to your situation (or have previously been eliminated), the ROM file should work with your apps without issue. If the ROM file problem has not been resolved, it is possible that there is another, more rare ROM file problem.