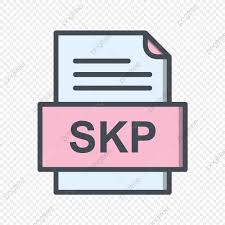 When you use SketchUp to generate a three-dimensional model, you save it as an SKP file. Different features, including as textures, shades, and wireframes, can be included in the SKP format. The SketchUp 3D modeling software application uses files with the .skp file extension.
The SketchUp software tool was used to construct three-dimensional models in these files. SketchUp models can be utilized in Google Earth or shared with other users on the internet. The .skp file extension is used to save 3D models created with this software. The SketchUp software was created by the @LastSoftware firm before being purchased by Google in 2006 and then sold to Trimble.
What is SKP File?
SketchUp design program uses a proprietary file format called SKP. Designers can use this simple tool to create complicated 3D models, such as architectural graphics. Other things you can make are video games and furniture ideas.
A SKP file can hold a whole 3D model or smaller parts of a larger design, such as a door or a chair. These bite-size pieces can then be imported into different designs. Simply looking for documents with the suffix can help you identify an SKP file.
What is SKP File Typically used for?
The SKP file format can be used to save a variety of 2D and 3D drawings. Typical applications include:
The 3D modelling features of SketchUp make it excellent for creating precise architecture blueprints. However, the program's reach is broad, encompassing industries as diverse as video games, interior design, and gardening.
SKP files support 3D printing, allowing designers to physically realize their designs. SketchUp also has a 3D Warehouse, which is a free model library where you can search for and add standard pieces to your creations.
How to Open SKP File?
There could be various reasons why you can't open the SKP file on your PC. The main and most essential (and most typical) explanation is that there is no relevant SKP-supporting software installed on your device.
Finding and downloading the relevant application is a pretty straightforward way to tackle this problem. The first part of the assignment has already been completed – the table contains the software that supports the SKP file. Simply download and install the necessary application. The computer's hardware resources are insufficient to handle the SKP file's opening.
When you open an SKP file, you'll require SketchUp. A desktop version for Windows or Mac can be purchased and downloaded. Right-click on the stored file folder to open it. After that, you should be able to open it in SketchUp.
You can also view SKP files in a browser if you use the free version, but you must first register with Trimble.
To create and edit an SKP image in the web version of SketchUp, follow the steps below.
Open Model/Preferences by clicking the icon.
Choose the option for a new model.
Choose a template based on your preferred measurement method (meters, or feet and inches, for example).
After that, your new model will open, ready for you to start working.
Possible Issues with SKP File?
The inability to open and operate the SKP file does not always indicate that you lack the necessary software on your computer. There could be other issues that prevent us from using the SketchUp Graphic File Format file. A list of potential issues follows.
A corrupted SKP file that is being opened
Incorrect SKP file linkages in registry entries.
The description of the SKP was accidentally deleted from the Windows registry.
The installation of an application that supports the SKP format is incomplete.
An unwanted infection has invaded the SKP file that is being opened.
The computer's hardware resources are insufficient to handle the SKP file's opening.
The computer's equipment drivers for opening an SKP file are out of the current.
If you're certain none of these factors apply to your situation (or have previously been eliminated), the SKP file should work with your programs without issue.