A document written with Corel WordPerfect has the file extension "WPD." If you have Corel WordPerfect installed on your computer, you can open a WPD document simply by double-clicking on it. If you don't have a copy of Corel WordPerfect, you can use Microsoft Word or Apache OpenOffice to open this sort of file. Apache OpenOffice is a completely free open source productivity package.

What is WPD File?
A text document is a file with the .WPD extension. The type of text file it is dependent on the program that uses it; this file extension supports three different file formats.
Most likely, you have a WordPerfect Document file, which is a WPD file made by Corel's WordPerfect application. Tables, text, photos, and other items may be stored in the file.
Another software that can create WPD files is 602Text. It creates a Document file (similar to WordPerfect) that can contain anything that a conventional word processor can, such as tables, custom formatting, graphics, text, footnotes, form objects, and so on.
How to open WPD File?
Because WordPerfect is the most common program linked with WordPerfect Document files, you can open the file with it. However, LibreOffice Writer, FreeOffice TextMaker, Microsoft Word, and Canvas X can all open WPD files of this type. On a Mac, NeoOffice can open them. A WPD file in that format can be opened using Swiftpage's Act software.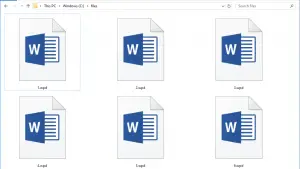 The third application that creates these files is 602Text, which is included in Software602's 602Pro PC Suite package. The final version, however, was last released in the early 2000s, therefore there isn't a current download link. It's still available on Archive.org.
Because the 602Text Document file format was created to be compatible with Microsoft Word, some versions of Microsoft Word may also support it. However, it may not render graphics correctly and is likely to be useful only if the WPD file is primarily text-based.
How to convert WPD File?
You must first determine which of the three file formats your file is in before determining how to convert it. Despite the fact that two of them (WordPerfect and 602Text) are identical in that they're both word processor documents, you'll need to utilize a different converter for each.
Zamzar can convert WordPerfect files to DOC, DOCX, PDF, PNG, TXT, ODT, and more formats. Because it's an online converter, you won't need to download any additional software; simply upload the WPD file, select a conversion type, and then download the converted file back to your computer.
Doxillion is yet another WPD converter for the WordPerfect file format, however it requires installation.
To convert a WPD file to that format, go to the link above and use 602Text. Convert it to a template file with the WPT file extension, or to DOC, HTML/HTM, CSS, RTF, PDB, PRC, or TXT using the File > Save As option.