The InDesign Markup Language is the full name of the format used by Adobe InDesign to create files with the IDML extension. This tool is intended for the creation of complicated visual page layouts for usage in magazines, newspapers, brochures, booklets, books, and eBooks. The properties of arrangement, metadata, multimedia elements, formatting, and other specialized information are all contained in IDML files.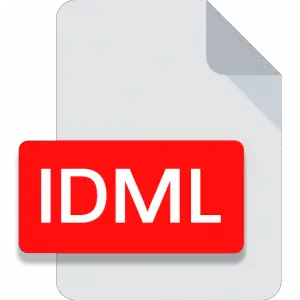 What is IDML File?
Adobe InDesign Markup Language files end in .IDML. The Adobe InDesign software can be used to produce, open, and modify these IDML files, which are also known as Adobe InDesign Markup Language documents.
The Adobe Creative Suite (CS) includes the Adobe InDesign software, which is a collection of products for generating and modifying multimedia documents, pictures, graphics, and animations.
The .IDML file format has replaced the .IDX file format. These .IDML files have compatibility support for other multimedia content production and editing software, which means they may be opened and edited by third-party programs as well.
How to Open IDML File?
The IDML format is the successor to the INX format, which was significantly more difficult to change using third-party software because it was less widely available. As a result, a new format was developed so that changing and producing page layouts could be done more easily in tools other than Adobe InDesign.
IMDL is an XML-based format in which all of its components are included within a compressed ZIP package. A single IDML file is made up of files and folders that include project elements and are organized in a logical order.
Possible Problems with IDML File
If you can't open or operate an IDML file, it doesn't necessarily indicate you don't have the right software installed on your computer. There could be other issues that prevent us from using the Adobe InDesign Markup Format file. A list of potential issues follows.
An IDML file that is being opened has become corrupted.
Incorrect IDML file linkages in registry entries.
The IDML description was accidentally deleted from the Windows registry.
Installation of an IDML-supporting application is incomplete.
An unwanted malware has invaded the IDML file that is being opened.
The computer's hardware resources are insufficient to handle the IDML file's opening.
The computer's drivers for the equipment used to open an IDML file are out of current.
If you're certain none of these factors apply to your situation (or have previously been eliminated), the IDML file should work with your programs without issue. If the problem with the IDML file has not been resolved, it is possible that there is another, more rare problem with the IDML file in this situation.