The PowerDirector Video Editing Software application most typically uses files with the .PDS file extension. CyberLink distributes the most recent version of PowerDirector, version 9, which is the first native 64-bit consumer video editor.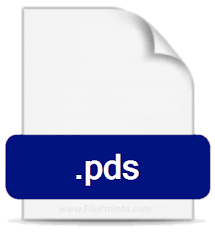 This software's PDS files include references to audio and video files that have been altered with the software. Menu options and information about transitions and effects for the attached video file are typically found in these files.
The .PDS file extension is also used by the Pldasm programming language. These PDS files contain language source code files written in the Pldasm programming language.
What is PDS File?
The .PDS file extension refers to video files made with the PowerDirector application. These files can be movies, slideshows, or just videos that have been altered and saved with the software in question. These .PDS files include menu settings for video editing, such as effects, transitions, and other options.
These files are required for the software to function properly while making and editing video for a number of applications, as this software is frequently used to generate video presentations and reports. The .PDS file extension is also used by NASA as a Planetary Data System File.
These .PDS files are data files containing information on space and planetary conditions collected during space missions and other equipment used to monitor planetary conditions.
Because this software is developed with compatibility support for various systems, PowerDirector can be installed on computers that run on commonly used versions of Microsoft Windows. Users should have a good quality video card, as well as sufficient RAM resources, 10 to 50GB of free hard disc space for temporarily storing video project files (to be stored later in data storage devices or optical media with higher data storage space once the video project files are completed), and a display monitor with high quality resolution before installing PowerDirector.
How to Open a PDS file?
Double-click a .PDS file, or any other file on your PC, to open it. The application that is supposed to open your .PDS file will open it if your file associations are set up correctly. It's conceivable that you'll need to download or buy the appropriate program.
It's also conceivable that you have the right application installed on your computer, but the .PDS files aren't yet linked to it. When you try to open a .PDS file in this situation, you can inform Windows which application is appropriate for that file. After that, when you open a .PDS file, it will launch the relevant application.
Double-clicking a PDS video file and letting the default associated application open it is the best approach to open it. If you are unable to open the file in this manner, it is possible that you may not have the correct application to view or edit the PDS file.